Martin Cook has recently been commissioned by a private client to hand carve this beautiful Madonna and Child.  It has been carved into the best Cumbrian green slate.
Martin's client is a fan of Barbara Hepworth and asked that Martin carve it similar to her style.  Martin is also a great fan of Hepworth and you can see her influence in his work.  He will often sculpt Welsh and Cumbrian slate to have soft rounded edges making them wonderful to touch.  Martin Cook also  incorporates holes through his memorials and garden standing stones.  Again similar to Barbara Hepworth style.
Martin really enjoyed the process of the producing this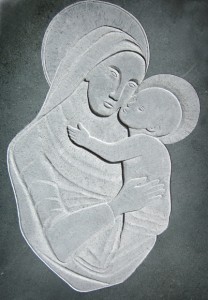 beautiful carving and it has now inspired him to take a short break and visit the Barbara Hepworth Museum in Cornwall.